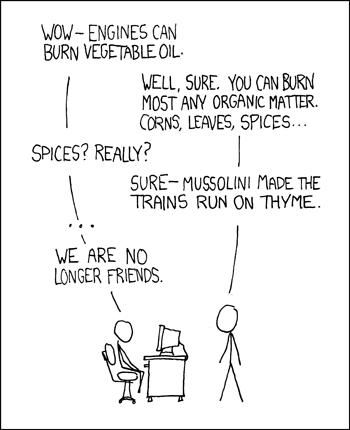 Teehee
! Okay, what prompted this
xkcd

comic
about spices? Funny you should ask.
This article
, gratefully yanked from the
DPA's

home page
, reports that the Indonesian VP endorses using marijuana as a cooking spice. However, he ensures us that the drug will still be illegal otherwise. No worries, says he, drug traffickers will continue to be executed while we all enjoy a heaping platter of delicious
cannabis
curry without consequence. Possession also remains illegal, except, I guess, when you're cooking. This is both nonsense and balderdash.
Gratuitous
stoner
joke: "But officer, we were BAKING! (barely
suppressed
giggles)"